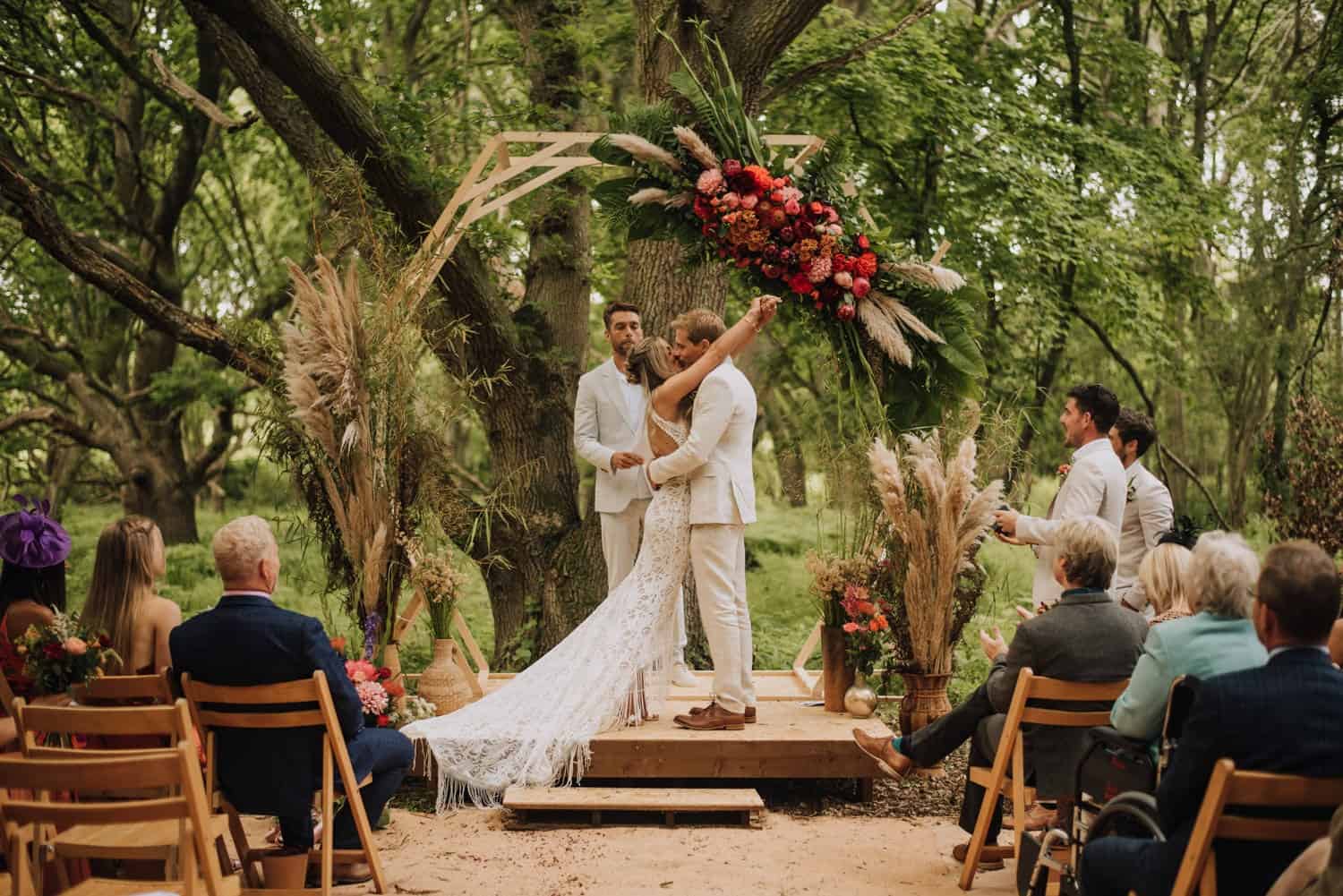 Possibly the most vibrant, outdoor woodland elopement I've ever shot! When I first met Jas and Craig they had visions of using bright and bold colour throughout their wedding. Jas' incredible Mum created metres and metres of beautiful garlands made using multiple red, orange, pink and gold pieces of fabric that tied in with the colours of the wedding flowers and bridesmaid dresses perfectly! Hosted at Honing Hideaway Campsite near North Walsham, Norfolk Jas and Craig had their best friend officiate their wedding in the small yet incredibly woodland on site at Honing Hideaway. They had a huge stage built and decorated it with the most colourful flowers and fabrics for a seriously impactful wedding ceremony backdrop! The ceremony featured the sweetest vows and even a song that everyone joined in to sing - the atmosphere was just euphoric! Once married Jas and Craig walked from the woodland to the main campsite where the huge sail cloth marquee sat. The day was extremely wholesome and ended with the incredible yet slightly eccentric Pirate Joe performing (you'll know if you've seen him live around Norwich before!)
Jas & Craig's Norfolk based wedding suppliers included:
Venue: HONING HIDEAWAY Flowers: SEA OF FLOWERS Caterer: SAMU KITCHEN, MOCO KITCHEN Dress Designer: GRACE LOVES LACE Hair Stylist: LISA MARIE HAIR Cake: Jas' Mum! Venue Styling: The couple! Band: Pirate Joe and the Foreign Locals
Woodland elopements/ weddings are my absolute favourite wedding to shoot. i love how informal and fun they can be plus I am a massive lover of the good ol' Norfolk countryside so I feel very at home when shooting them! Marquee weddings are often a lot of work however I promise you they are worth it! If you are planning your own farm wedding or garden wedding please do head to my recommended suppliers page. Here you will find my top Norfolk and Suffolk wedding suppliers ranging from fab florists to stunning stationary!
My 2024 diary is already looking very busy despite only being 3 months into 2023. If you are looking for a fun wedding photographer who loves everything about outdoor, marquee weddings (including horses, cows, sheep and generally all animals) please do pop me a message via my contact page. here you will be able to find my contact form - please fill in the form as thoroughly as possible so I can gain an insight into your wedding plans and you and your fiancé.